Commercialization
Delivery of a companion diagnostic product requires a focused R&D, regulatory and operations approach, however the ultimate measure of the effectiveness of the product is its successful adoption in the marketplace.  At Asuragen, we engage our commercial operations team early in the product development phase to ensure that product design requirements reflect market needs from the performance, usability and economic perspectives.  Engaging the commercial team early allows us to partner with you throughout your preparations for the drug launch. This ensures that laboratories are primed and ready to receive test prescriptions from the treating physicians administering your drug.
As we partner with your commercial organizations to optimize the simultaneous deployment of drug and diagnostic, we focus our core marketing, scientific and medical affairs efforts in 4 major areas: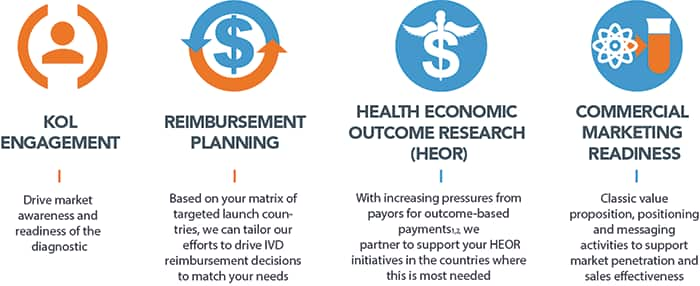 Coupling our market preparation work with our existing direct sales and distributor partner network enables us to leverage our existing key relationships with MDx end users, pathologists and purchasers in the major laboratories in over 70 countries globally to support your product's success.
Resources
References
https://www.bostonglobe.com/business/2015/06/11/sky-high-drug-prices-under-pressure-insurers-push-pay-for-performance/JOERSUOnlAFeDKIzVTrO0H/story.html