An Integrated System for Targeted NGS
AN INTEGRATED SYSTEM FOR TARGETED NEXT-GENERATION SEQUENCING THAT ENABLES SIMULTANEOUS ANALYSIS OF DNA MUTATIONS, RNA FUSIONS AND GENE EXPRESSION IN RESIDUAL CLINICAL FFPE, FNA, AND LIQUID BIOPSIES
Brian C Haynes1, Richard Blidner1, Robert Zeigler1, Jason R Plyler1, Sachin Sah1, Liangjing Chen1, Huiping Zhu1, Andrew G Hadd1, Junya Fujimoto2, Vassiliki A Papadimitrakopoulou3, Ignacio I Wistuba2, and Gary J Latham1
1Asuragen, Inc., Austin, TX; 2Department of Translational Molecular Pathology, 3Department of Thoracic/Head and Neck Medical Oncology, Medical Oncology, The University of Texas MD Anderson Cancer Center, Houston, TX
Introduction: The capability of NGS to interrogate a broad range of DNA mutations in a single assay has precipitated a paradigm shift in precision medicine from single-target assays to highly multiplexed NGS panels. Current NGS panels have increased the breadth of content but do not streamline the analysis of RNA and DNA markers into a unified assay. We present a comprehensive approach for targeted clinical NGS that enables simultaneous quantification of DNA and RNA, a streamlined workflow compatible with low-input total nucleic acid (TNA), and specimen compatibility that includes FFPE and FNA specimens.
Methods: Sample QC was performed using a novel qPCR assay that quantifies and partitions functional DNA and RNA from TNA isolations. PCR-based target enrichment was conducted using QuantideX® targeted NGS reagents and sequenced on the MiSeq (Illumina) or the PGM (Thermo Fisher). Library sequences were analyzed using QuantideX® Reporter, a bioinformatic analysis suite that directly incorporates pre-analytical QC information to improve the accuracy of variant calling, fusion detection and RNA quantification.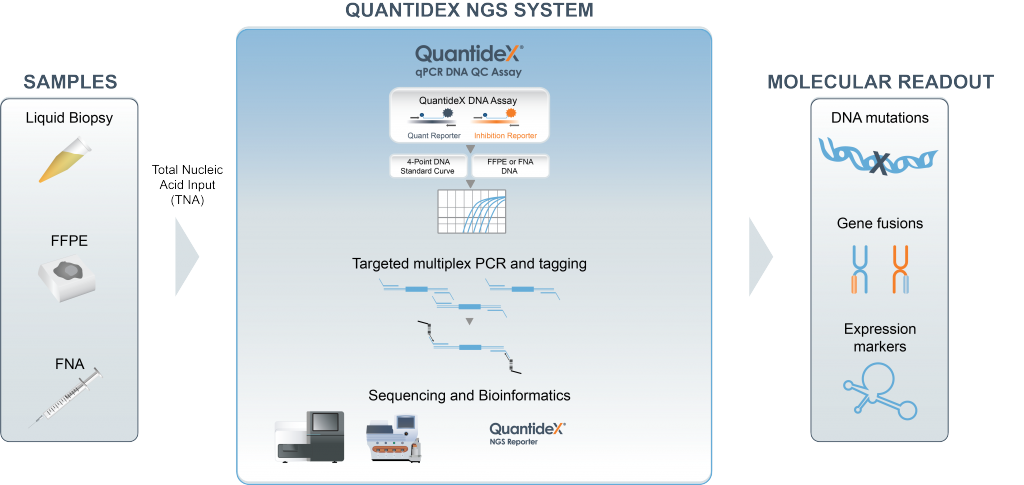 The QuantideX NGS system is a streamlined workflow from QC to informatics that enables simultaneous quantification of DNA point mutations, indels, structural variants, RNA expression and gene fusions from a total nucleic acid (TNA) isolated from low-input, low-quality samples.
Results: We present two unified RNA/DNA cancer panels: 1) a thyroid cancer panel that covers 56 DNA targets and 90 RNA targets, including 50 gene fusions and 40 mRNA targets; and 2) a lung cancer panel that covers 55 DNA targets and 131 RNA targets including over 100 gene fusions and over 20 mRNA expression markers associated with clinical actionability. Both panels interrogate RNA and DNA events from a single TNA sample in one sequencing run.
The thyroid panel was evaluated on 123 FFPE thyroid lesions and 65 FNAs and revealed >98% agreement with independent methods. A diagnostic classifier that was migrated from FFPE to FNA increased diagnostic sensitivity from 74%, using DNA markers alone, to 95%, using RNA and DNA markers, while maintaining high specificity. The lung panel was assessed with cell-line and synthetic controls as well as 100 NSCLC FFPE specimens. Integration of a customized bioinformatics pipeline and variant caller with wet-lab QC enhanced mutation call sensitivity for variants present at less than 10% mutation, improved PPV for low-input specimens, and achieved absolute quantification of RNA.
Conclusions: The QuantideX® NGS system features optimized sample QC and enrichment chemistries that unify RNA and DNA targets and enhance quantitative variant calling and expression analyses to enable reliable, accurate and comprehensive molecular characterizations of tumor specimens.  These approaches can be utilized with multiple types of cancer biopsies and NGS platforms to advance diagnostic, prognostic and theranostic applications.
---
Learn more about our targeted NGS products:
QuantideX NGS Pan Cancer Kit*
QuantideX NGS RNA Lung Cancer Kit*
*For Research Use Only. Not for use in diagnostic procedures.