Employee Spotlight: Ajit Adsule
Ajit Adsule
Buyer Planner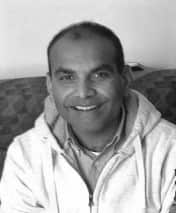 Analytical | Community Service | Fun
---
Tell us a little about what makes you unique.
I would describe myself as a hardworking individual who is dedicated to being the best at my job, while being mindful of my family and my own well-being. In addition to my work at Asuragen, I enjoy teaching meditation classes, gardening and biking with my family.
What drove you into the biotech industry?
Growing up, I wasn't exactly sure what I wanted to do, but knew I wanted my work to have a meaningful impact on peoples' lives.  After working in various industries, I found myself thinking about the fulfillment that comes with being at a company doing meaningful work with people who share that passion.  I can now say my wish of doing that has come to fruition.

What do you do at Asuragen?
I work as a Supply Chain Planner and Buyer where I help support key functions of the business such as inventory management, maintaining strong relationships with suppliers and training users on software that is vital to our company's success. Outside of my job duties, I lead onsite meditation classes and am an active proponent of our wellness initiatives.
Based on your experience in both large pharma and small startup environments, what do you think most sets Asuragen apart?
In smaller companies, face-to-face interactions are a critical part of everyday business. At Asuragen, we have an extremely collaborative culture and a true sense of teamwork that I have yet to find anywhere else.
What are you most proud of?
I believe that we should never stop making magic everyday through our work! I am blessed to have a wonderful family, great group of friends, and a fulfilling job where we make a difference every single day in the lives of patients.