Employee Spotlight: Erika Lokander
Erika Lokander
Sr. Manager, International Regulatory Affairs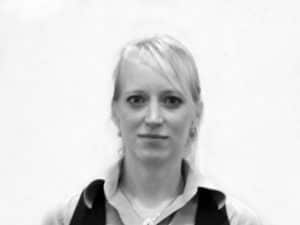 Driven | Listener | Dog Lover
---
Tell us a little about what makes you, you?
To give you a snapshot of who I am…
I am Swedish born, bred, and educated.  I went to the University of Mälardalen, Eskilstuna and the Royal Institute of Technology, Stockholm majoring in Biotechnology Engineering/Biochemistry.
A few years ago I took an opportunity to move for work even though I had only ever been to the Austin for a 5-day visit prior to that!!  It was not easy, and the first 2 months being here were some of the hardest times I have ever been through, but they proved one thing – if I set my mind to something, no matter how big a challenge, I can get through it.
What do you do at Asuragen?
I am in Regulatory Affairs – I am responsible for our international regulatory submissions.  It's a really varied job, one day I can be working on CE marking for Europe, the next I am following up on submissions in Canada, Korea or Australia.  It's a lot of work, but I really enjoy it and the variety really means I have to have a very broad global perspective on things.
Why regulatory affairs?
I know it sounds slightly clichéd but I always wanted to work in a field where I could help people in a meaningful way.  That led me to the healthcare space because of my academic background and then I sort of stumbled into regulatory affairs and found I really enjoyed the challenges it brought and the fact that it helped make sure we delivered quality and validated results for our customers.
What is the most interesting project you have worked on?
I am not sure it is a specific project. When you work with a broad group of international markets, with varied cultures and multiple regulatory authorities, every situation is totally different. You end up being a detective, to read between the lines, and a negotiator, to get people on the same page, all at the same time. It makes every project exciting and challenging in its own way.
So what is the big excitement and challenge for you in 2017?
Workwise, we have a lot of interesting international submissions to work towards.  On a more personal note I am looking forward to a new personal best and another Boston Qualifier time at a marathon either in Stockholm or Chicago or maybe in both.