Employee Spotlight: Stephen Morales
Stephen Morales
Territory Sales Manager, South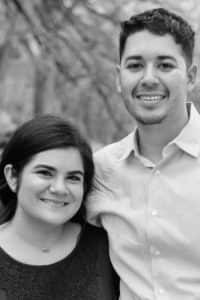 Analytical | Community Service | Fun
---
What do you do at Asuragen?
I'm the Territory Sales Manager responsible for the southern portion of the U.S. My main goal is to grow and maintain revenue for the company. I love what I do as I get to visit numerous reference labs, hospitals, and academic institutions to drive assay adoption. I find the job challenging, but also humbling as I get to build long-term relationships with our customers.
Why do you do what you do?
I am able to impact a lot people that may be dealing with cancer or genetic diseases. In my role, I can deliver the best technology that enables providers to give patients the best treatment possible.
From a young age, I was interested in the sciences and I wanted to do something that was meaningful. I'm also a very outgoing person.  I feel lucky to have found a career that allows me to work with people and build relationships while also impacting people's lives.
Like many people, cancer has had a significant impact on my life as I've lost several relatives to this devastating disease. I work in this space for them. In their memory, I hope to touch as many lives as possible.
Tell us a little about what makes you, you?
I would describe myself as a hardworking driven individual who can be trusted to be the very best version of themselves. I try to hold myself to the highest levels of Integrity and professionalism on and off the job. I pride myself in being extremely kind and generous to friends and strangers alike.  Rarely will you see me without a smile on my face. Outside of work, I enjoy anything outdoors, especially mountain climbing and swimming. Overall, I am an adventure junkie who just wants to explore the world and hopefully retire on a mountain and live off the land. With dogs…. lots and lots of dogs.
So what is the big excitement and challenge for you in 2018? (Career and/or personal)
I would say 2018 has been truly organized chaos. I have moved, welcomed a nephew, climbed many mountains, as well as plan a wedding all while working full time. I am excited to marry my best friend in September.
What are you most proud of? (Career and/or personal)
I am most proud of graduating college with a Master's degree. I am a first generation college graduate in my family.  Graduating from Texas Tech University (Wreck em!) has truly enabled my professional career to take off. I would not have been able to travel and make the global impact that I have without my education and the values of hard work and dedication instilled in me by my parents.
What do you like most about working here?
I love that everyone at the company is truly passionate about the work they do and we work very hard to deliver results. We are all committed to the goal of developing diagnostics that give patients the answers they need.
Is there anything else we should know about you?
I love pizza and tacos… and dogs, did I mention that?