Maximizing Result Yield and Fidelity
Use of the QuantideX® qPCR DNA QC Assay helps you protect valuable FFPE tissue samples in sequencing projects by providing in-process DNA quality control testing.
Asuragen provides unparalleled quality control (QC) sample testing for DNA sequencing projects utilizing the proprietary QuantideX qPCR DNA QC Assay. The QuantideX qPCR DNA QC Assay is a multiplexed quantitative PCR assay that measures the absolute copy number of PCR-amplifiable DNA in a sample and reports PCR inhibition. The QuantideX Assay determines the functional quality of sample DNA using the QFI™ Score, which is the fraction of total genomic DNA copies that can be amplified. The QFI™ Score and copy number of amplifiable DNA provide actionable guidance that informs the input into NGS target enrichment and helps assure high analytical sensitivity and specificity. In addition, it flags PCR inhibitors in the sample and provides an opportunity to salvage such samples through a subsequent clean-up step prior to further processing. Paired with Asuragen's comprehensive project design, sequencing and data analytics, the Assay gives researchers the unprecedented ability to discover the relevant biomarkers and underlying biology within challenging samples.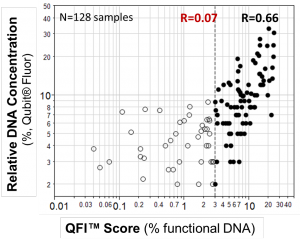 Correlation between the QFI™ Score and Qubit® DNA concentration for 128 residual clinical samples. FFPE tumors with low levels of functional DNA are identified by the QuantideX® Assay, but not by the Qubit® assay (Sah et al., 2013).
---
Learn more about the QuantideX qPCR DNA QC Assay
Watch the video to learn more: Asuragen Tech Talk: Measure the DNA that Matters