QuantideX® NGS Reporter Software
QUANTIDEX® NGS REPORTER: A PUSH-BUTTON BIOINFORMATICS ANALYSIS TOOL THAT INTEGRATES PREANALYTIC QC FOR SIMPLE-TO-USE ANALYTICS WITH SUPERIOR VARIANT DETECTION IN RESIDUAL CLINICAL FFPE, FNA, AND LIQUID TUMOR BIOPSIES
Introduction: Next-generation sequencing (NGS) is rapidly becoming a mainstay in clinical research and diagnostics due to its ability to interrogate many loci simultaneously with high sensitivity. A systems approach is required, however, to overcome experimental complexity, sample heterogeneity, and data analysis burdens. Although generic "easy-to-use" and high-performance NGS analysis solutions are often claimed, critical disconnects persist across pre- and post-analytical assay phases, particularly for the most challenging clinical samples. We present QuantideX® Reporter, a fully-integrated informatics solution that leverages a systems approach to clinical NGS.
Methods: QuantideX® Reporter is a push-button bioinformatics analysis suite that was developed and optimized with a companion reagent ecosystem of targeted DNA-Seq and RNA-Seq panels (Asuragen) to ensure integration from sample to results. The software can be installed onto a standard desktop machine, includes built-in visual summaries of targeted NGS QC metrics, and enables simple export of analysis results. QuantideX® Reporter includes a proprietary variant calling engine that differs from other callers by directly incorporating pre-analytical QC information (amplifiable DNA template count via the QuantideX® DNA Assay) into variant calling. The algorithm was trained on 425 residual clinical specimens, comprised of 171 FFPE and 254 FNA tumor biopsies with independent truth measures.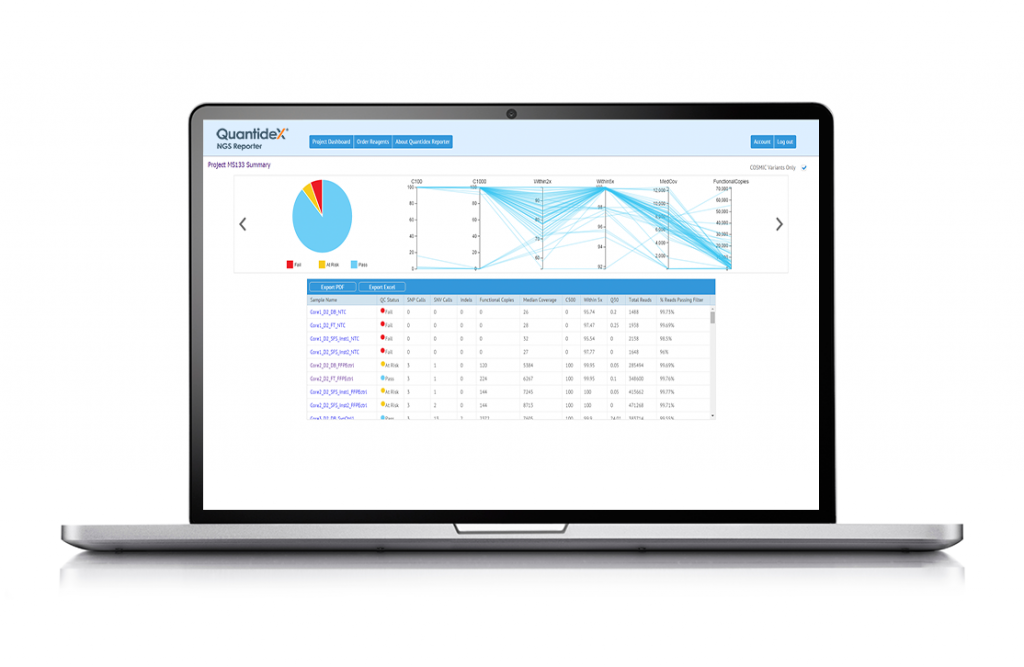 Results: We highlight the utility of an integrated systems approach that tightly couples the assay and the analytics through evaluation of an
independent test set of over 80 FFPE specimens. Additionally, variant call concordance was evaluated between 30 FFPE and matched fresh frozen and plasma specimens. Comparisons with generic variant calling algorithms reveals that incorporating sample-specific experimental data enhances mutation detection sensitivity, especially for variants present between 0.5% and 10%, and improves PPV for libraries prepared with fewer than 200 amplifiable DNA template molecules. Additionally, QuantideX® Reporter assigns samples to QC risk categories based on the likelihood of false-negative calls.
QuantideX NGS Reporter software and interface. The QuantideX variant caller is made available through the QuantideX NGS Reporter analysis software. Shown are screenshots of the software, illustrating the push-button analysis and results.
Conclusions: The sensitivity and specificity of variant calling, and the ability to assess false-negative risks on a per-sample basis, can be augmented by utilizing pre-sequencing QC information as part of a systems approach to targeted NGS. The combination of high-quality wet bench assays and novel sample-informed analyses, packaged in a streamlined, simple-to-execute workflow, can provide relief from the requirements of in-house bioinformatics expertise and high-performance computing infrastructures while also improving analytical results for oncology precision medicine applications.
---
Learn more about the products that utilize our QuantideX NGS Reporter software:
QuantideX NGS Pan Cancer Kit*
QuantideX NGS RNA Lung Cancer Kit*
*For Research Use Only. Not for use in diagnostic procedures.