ACMG 2021
| Virtual Meeting
Asuragen is a leading provider of testing kits for key carrier screening targets, including FMR1 (fragile X syndrome) and SMN1/2 (spinal muscular atrophy).  With our simple, streamlined, single-day testing workflows, laboratories everywhere can test for these important, yet technically challenging, targets with unprecedented ease.
At ACMG 2021, we are proud to showcase our latest offerings in carrier screening and beyond, including the AmplideX®️ PCR/CE SMN1/2 Plus Kit* and the upcoming AmplideX®️ PCR/CE CFTR Kit**, as well as our groundbreaking work with Pacific Biosciences to transform how carrier screening can be performed via long-read sequencing.
At this year's virtual event, we will be presenting two posters highlighting our work to provide carrier screening solutions to address the needs of today and tomorrow.  Learn more about our presence at ACMG 2021 below.
---
Scientific Posters & Video Presentations
The ACMG Digital Edition offers its Scientific Posters and associated Video Presentations through the ACMG Academy Portal.
Buccal Swab Testing with the AmplideX® PCR/CE SMN1/2 Plus Kit that Assesses Copy Number and Critical Mutations for SMA  eP418
Poster Authors: Justin Janovsky, Sarah Edelmon, Ila Wolf, Gary J. Latham and John N. Milligan
Early detection of SMA (including SMN2 copy number status) and identification of at-risk couples through carrier screening can be facilitated by use of a sample type, such as buccal swabs, whose collection process is less invasive and less cumbersome than drawing a patient's blood.
Buccal swabs were demonstrated to be a compatible sample type for use with the AmplideX PCR/CE SMN1/2Plus Kit* with overall concordance of >98% to reference results for SMN1 and SMN2 copy number as well as qualitative detection of gene duplication and disease modifier variants.
An analysis of 43 matched blood and Buccal samples showed overall copy number concordance of 99.7% whether using UDC or default calibration.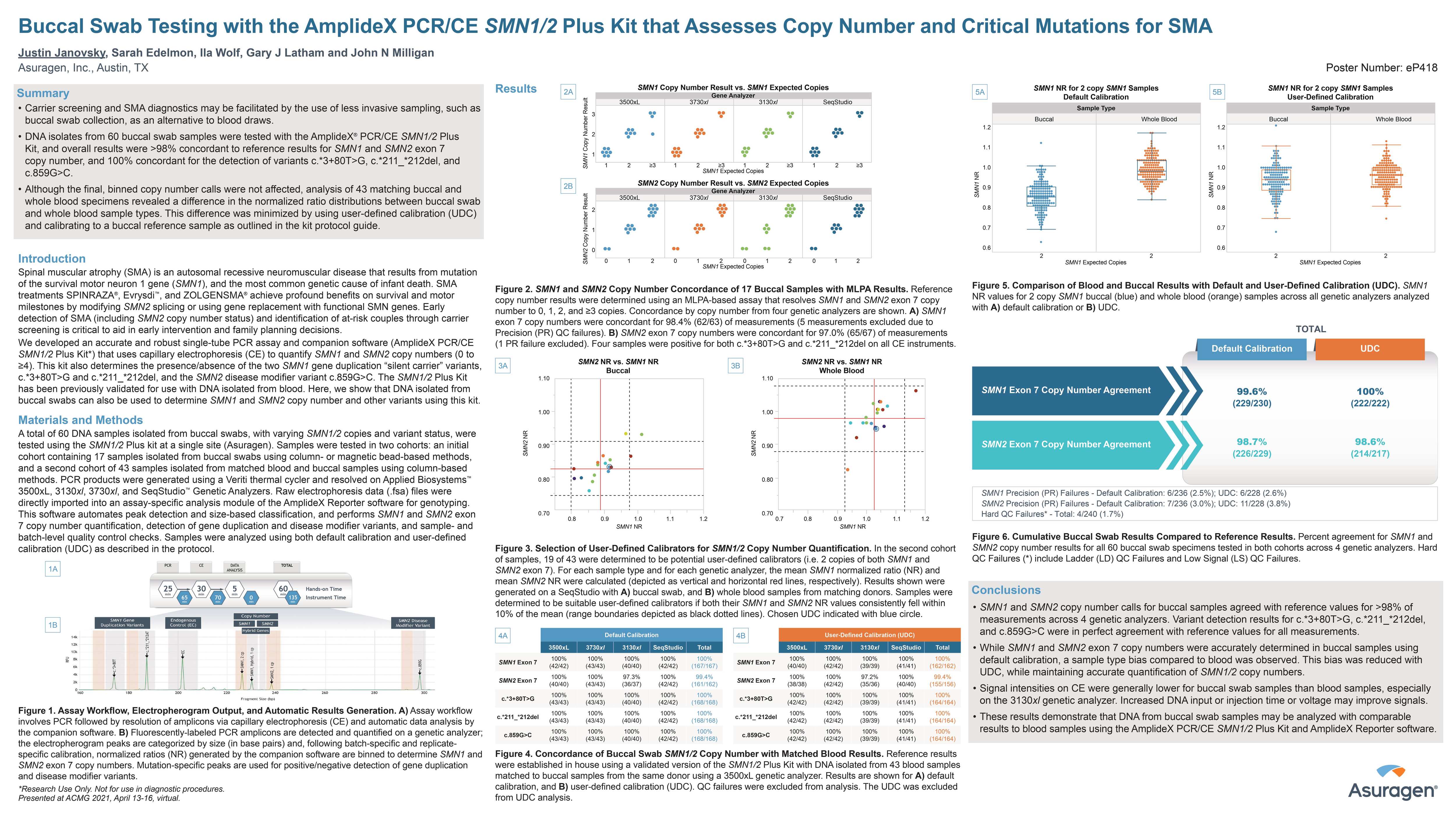 ---
A Combination of Long-range PCR and Long-read Sequencing Resolves Common, High-risk Dark and Camouflaged Carrier Screening Genes  eP371
Poster Authors: Sarah Statt1, Julie R. Thibert1, Jon Kemppainen1, Cody Edwards1, Liangjing Chen1, Theodore Markulin1, Jacob Wisotsky1, Brian C. Haynes1, Cheryl Heiner2, John Harting2, and Gary J. Latham1          
1.Asuragen, Inc., Austin, TX; 2. Pacific Biosciences of California, Inc., Menlo Park, CA.
High-prevalence carrier genes associated with disorders, such as fragile X syndrome, spinal muscular atrophy, and hemophilia A, include GC-rich repeats, complex structural variants, and/or pseudogenes that challenge conventional sequencing methods.
We demonstrated that a workflow combining unbiased, long-read AmplideX PCR enrichment with high fidelity, long-read SMRT® sequencing can accurately resolve pathogenic variants in "hard-to-do" genes.
This method has the potential to address real-world gaps in carrier screening by streamlining workflows and covering the full spectrum of clinically-relevant dark and camouflaged gene regions that contribute the largest reproductive risk to couples.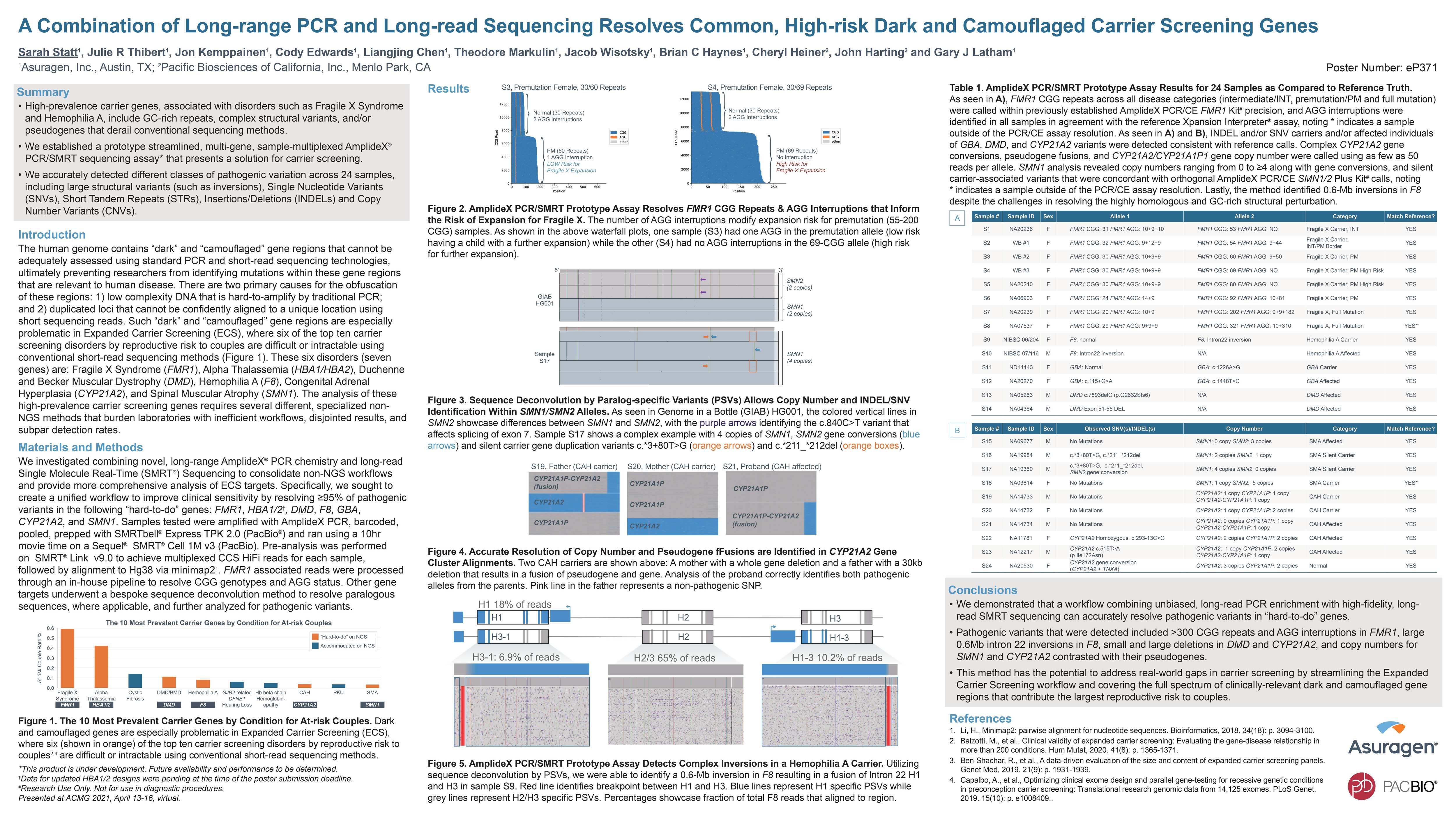 ---
Videos
Asuragen & PacBio @ ACMG 2021
Asuragen and Pacific Biosciences are pioneering a new reality for carrier screening, providing a streamlined workflow to test for many challenging targets that remain elusive or undetectable using conventional approaches.  Learn more by watching the video below.
A Fast Track to Covering Your Bases:  How the AmplideX® PCR/CE CFTR Kit Streamlines the Detection of Diverse Pathogenic Variants in Under Five Hours
Powered by AmplideX® PCR technology, Asuragen is developing a new assay for the broad detection of pathogenic CFTR variants, which will provide the broadest variant coverage† of any targeted CFTR kit and deliver results in just five hours.  Learn more about the AmplideX® PCR/CE CFTR Kit** by watching the video below.
Looking Beyond Copy Number: Broad SMN1 and SMN2 profiling in under four hours with the AmplideX® PCR/CE SMN1/2 Plus Kit
Spinal muscular atrophy (SMA) is a devastating neurodevelopmental illness caused by a loss of SMN1 copies with disease severity determined by the number of SMN2 copies.  But is determining SMN1 and SMN2 copy number enough?  New studies suggest that detecting the presence of an SMN2 disease modifier variant may impact SMA prognosis.
---
Resources
Learn more about Asuragen's product offerings via the resources below.
---
---
*For Research Use Only.  Not for use in diagnostic procedures.
**Product in development.  Specifications not finalized.