Sensitivity that takes molecular response monitoring to a whole new level
Assessing complete molecular response requires the highest possible assay sensitivity. The FDA cleared QuantideX® qPCR BCR-ABL IS Kit takes chronic myeloid leukemia (CML) monitoring to a new level of sensitivity at MR4.7 (0.002% IS). With this unprecedented level of sensitivity coupled to a simple-to-run, singlicate test, you can now reliably and reproducibly monitor much deeper molecular response.
---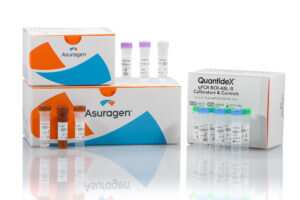 Reduced Complexity

Direct reporting on the International Scale (IS)
Data analysis software provides automated calculations and streamlined reporting
Optimized Workflow

Multiplexed design amplifies and detects both fusion and control gene in the same reaction
All-inclusive reagents sourced and Quality Controlled together from a single vendor
Quality Performance
Sensitivity of MR4.7 (0.002%IS) determined using Human RNA
Armored RNA®-based standards provide true RNA quantification
---
Please fill out the form below to request more information.