Reliable and clinically meaningful results you can trust
Assessing complete molecular response requires the highest possible assay sensitivity. The FDA cleared QuantideX® qPCR BCR-ABL IS Kit takes chronic myeloid leukemia (CML) monitoring to a new level of sensitivity at MR4.7 (0.002% IS). This unprecedented level of sensitivity enables you to detect loss of molecular response earlier and make patient management decisions armed with the best available diagnostic insights. By using a high precision assay that reports results on the International Scale, you can be confident that patient monitoring results are accurate and reproducible.
---
COMPLIANCE WITH GUIDELINES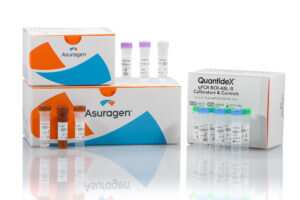 Direct reporting on the International Scale (IS)
Ability to assess Complete Molecular Response with an assay that has a sensitivity of MR4.7 (0.002%IS) determined using Human RNA dilutions
CONFIDENCE IN RESULTS

The first and only clinically validated, FDA cleared CML monitoring assay
High assay precision means the results don't fluctuate from on time point to another
ASK YOUR LAB IF THEY ARE USING AN FDA CLEARED ASSAY
---
Please fill out the form below to request more information.