Employee Spotlight: Jessica Larson
Jessica Larson
Sr. Scientist II, Computational Biologist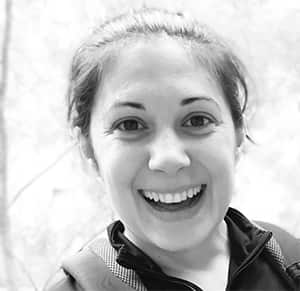 Analytical | Curious | Organized
---
Tell us a little about what makes you, you?
Born and raised in the Chicago suburbs, I have a two-year-old daughter and husband of nine years. As a family, we like to travel and enjoy the outdoors. I am also an athlete, huge NBA fan, and local and national news enthusiast.
I'm a scientist. Neither of my parents are scientists, but both supported me in my technical interests. I chose the biotech industry because I wanted my work to have a meaningful impact on both scientists and non-scientists.
What drove you into science as a career?
I've always enjoyed Math and Biology, and I am personally driven by a desire to translate complex data into simple conclusions. While pursuing my undergraduate degree at Swarthmore and PhD at Harvard, I was fortunate to have supportive advisors who pushed me to think critically and ask difficult scientific questions. I found my niche in Biostatistics with a focus on the analysis of genetic and genomic data. After earning my PhD, I worked for a large pharmaceutical company and then a small biotech startup before joining Asuragen in 2016.
What do you do at Asuragen?
I am a Senior Scientist in our Bioinformatics Department. I primarily work with our Technology and Development research teams, developing new statistical methods and algorithms to accurately analyze the data generated by our products.
Based on your experience in both large pharma and small startup environments, what do you think most sets Asuragen apart?
Asuragen is constantly changing and innovating. This is not a company that rests on its laurels. We continuously examine the larger clinical and scientific research community to determine the most substantial unmet needs. At Asuragen, I have an impressive set of talented and creative colleagues and a plethora of scientific questions to answer.
What is the most interesting project you are working on?
I am working on developing a liquid biopsy product to improve cancer diagnostics. I work closely with both bench scientists and other bioinformatics scientists, and together, we are developing innovative and sophisticated techniques to determine tumor status from only a small blood sample. This project has been particularly rewarding for me for two reasons: (1) it is fundamentally a signal-to-noise problem, requiring novel methods development and advanced statistical modeling, and (2) developing this product will result in a ubiquitous diagnostic tool in the future.
What are you most proud of?
I am most proud of my daughter. She reminds me daily that our world is surprising, and that there are constantly new things to explore and discover.