Association for Molecular Pathology 2019 Annual Meeting
Baltimore, MD | Nov. 6-9
The Association for Molecular Pathology (AMP) Annual Meeting invites laboratorians, practitioners, and industry professionals from around the world to learn about new biomarkers, tests, and treatments as they move from clinical research to clinical practice.
At this year's AMP congress, Asuragen is excited to showcase its latest developments in genetics and oncology, including:
The new AmplideX PCR/CE SMN1/2 Plus Kit*, a clinical research tool for the comprehensive analysis of genes associated with spinal muscular atrophy
The latest AmplideX Reporter software modules, incorporating AI-informed algorithms and push-button simplicity to streamline results reporting
Exciting collaborations with our customer and industry partners, including development of a multi-omics approach to combine genomic and proteomic analysis of non-small cell lung cancer specimens
A complete list of our events and presentations is listed below. Please visit us at Booth #2525 and join us at these sessions to learn more about how our robust and reliable solutions for complex genomic targets could make a difference for your laboratory.
CORPORATE WORKSHOPS

Wednesday, November 6th
Room 338
10am
Simple, Sensitive, and Scalable Patient Monitoring with the QuantideX® qPCR BCR-ABL IS Kit
Presented by:
Emily Adams, BS(ASCP)CM, Johns Hopkins University
The emergence of new treatments and management approaches in chronic myeloid leukemia (CML) has generated long-term survival statistics that nearly mirror that of the general population.  This longer-living and ever-growing patient population paired with the increased demand for detecting even deeper molecular responses now requires laboratories to implement a highly sensitive, scalable, and streamlined solution to keep up with increasing testing demands.  In this workshop, we will review how the FDA-cleared, QuantideX® qPCR BCR-ABL IS Kit not only arms laboratories with a simple and easy-to-implement solution for BCR-ABL monitoring today, but prepares them for the demands and challenges of tomorrow.
12pm
From Two Days to Four Hours: How the AmplideX® PCR/CE SMN1/2 Plus Kit Provides SMN1 and SMN2 Copy Number Information and More…
Presented by:
Vivianna M. van Deerlin, MD, PhD, University of Pennsylvania Perelman School of Medicine
Spinal muscular atrophy (SMA) results from the homozygous loss of SMN1, and its severity is inversely correlated with the number of SMN2 copies. Sequence similarities between these two genes has challenged assay development and current on-market solutions have a multi-day workflow. In this workshop, we review how the AmplideX® PCR/CE SMN1/2 Plus Kit (RUO) provides SMN1 and SMN2 copy number in a simple, scalable, and streamlined workflow in less than four hours. In the same reaction, the assay also detects variants associated with gene duplication as well as milder disease phenotypes.
2pm
Next-Generation Sequencing Within Your Reach: Complete, NGS-in-a-Box Testing Solutions for DNA and RNA Variants in Cancer
Presented by:

Nimesh Patel, MD, Lifespan Academic Medical Center
Stephen Hyter, PhD, University of Kansas Medical Center
As our understanding of biomarker relevance continues to expand in somatic oncology, the need for broad yet timely detection of these variants has grown considerably.  While next-generation sequencing has helped overcome many of the obstacles associated with single-marker, sequential testing, implementation of the technology has not been without its challenges.  In this workshop, we will highlight how the QuantideX® NGS RNA Lung Cancer and Hotspot 21 Kits (RUO) enable the detection of both DNA and RNA-associated variants including SNVs, indels, fusions, splicing events, and more via streamlined testing workflows and automated results interpretation.
POSTER SESSIONS
Friday, November 8
2:30 – 3:30pm
Informatics
I024: A Deep Learning Method for High-Throughput FMR1 Triplet Repeat Screening
**Nominated for AMP 2019 Technologist Award**
Presented by Lando Ringel
Genetics
G012: Performance of AmplideX SMN1/2 Assay from Asuragen
Presented by Lech Mazur (Advocate Health)

G022: A Multiplex PCR/CE CFTR Assay Resolves Zygosity of the 23 ACMG/ACOG-recommended CFTR variants and Sizes poly-T and TG Repeats in a Single Tube.
**Nominated for AMP 2019 Technologist Award**
Presented by Pranesh Rao

G044: A Rapid Diagnostic and Screening System for Spinal Muscular Atrophy that Reports Copy Number Changes, Single Nucleotide Variants and Small Indels
Presented by Huiping Zhu, PhD

Saturday, November 9
9:45 – 10:45am
Technical Topics
TT041: Evaluation of the Asuragen AmplideX PCR/CE HTT Kit: A User Laboratory Experience
Presented by Celeste Eno, PhD, UCLA
TT049: A Single-Platform Technology for Proteogenetic Biomarker Analysis in Oncology: Complementary Protein and RNA Quantification Relevant to Targeted and Immuno-therapies in Non-Small Cell Lung Cancer
Presented by Gary Latham, PhD (in collaboration with Bio-Techne)
---
CUSTOMER RECEPTION
Asuragen will be hosting a Customer Appreciation Reception. Please join us Wednesday, November 6th for hors d'oeuvres and drinks.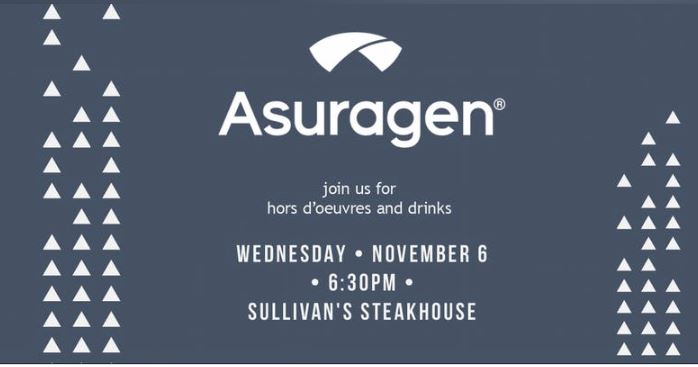 * Product in development. Specifications not finalized.