Companion Diagnostics (CDx)
Companion diagnostics (CDx) have the extraordinary power to connect a patient's unique genetic profile to a promising, personalized treatment option. While dramatic improvements in outcomes for cancer patients have been observed through this approach, it has yet to take hold in other disease areas, such as those involving the central nervous and cardiovascular systems.
Partner with Us to Accellerate Your Companion Diagnostics Journey
Potentially targetable biomarkers in these and other conditions present a variety of testing hurdles for laboratories, including the presence of complex, difficult-to-amplify sequences and cumbersome testing workflows.  Asuragen's unique and proprietary chemistries have the ability to detect and analyze these targets with unprecedented ease, providing simple, streamlined, and easily deployable testing solutions to bring the routine analysis of these targets within the reach of laboratories everywhere.  These capabilities have been applied to challenging markers including long repetitive sequences, complex single nucleotide variants, pseudogene discrimination, gene conversions, methylation and copy number variation and incorporated into applications ranging from highly sensitive oncology monitoring to phasing of lesions to determine eligibility for targeted therapies.
Benefits of Partnering with Asuragen for Your Companion Diagnostics Journey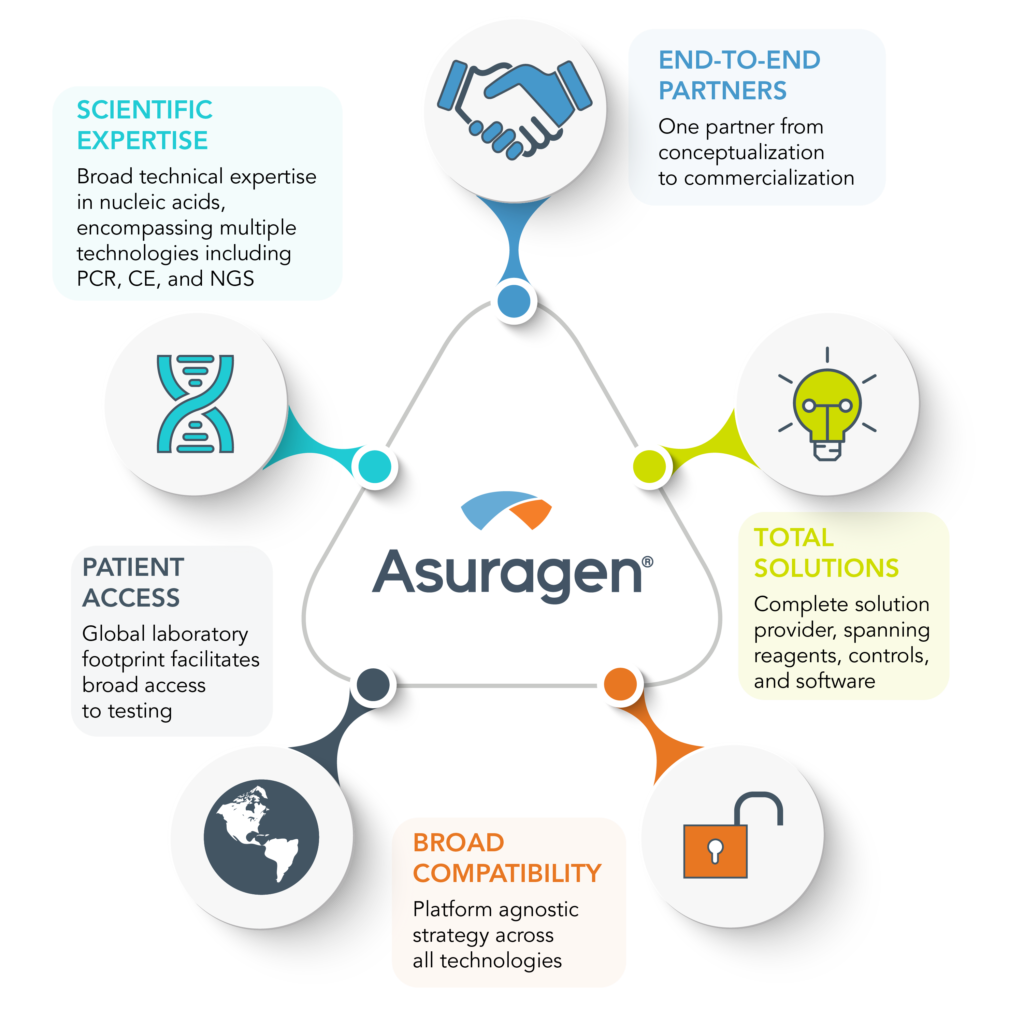 Providing Complete Solutions to Our Customers
Asuragen's kitted products feature all of the necessary components – reagents, controls, and automated software – to deliver quality and accurate results in any laboratory around the world.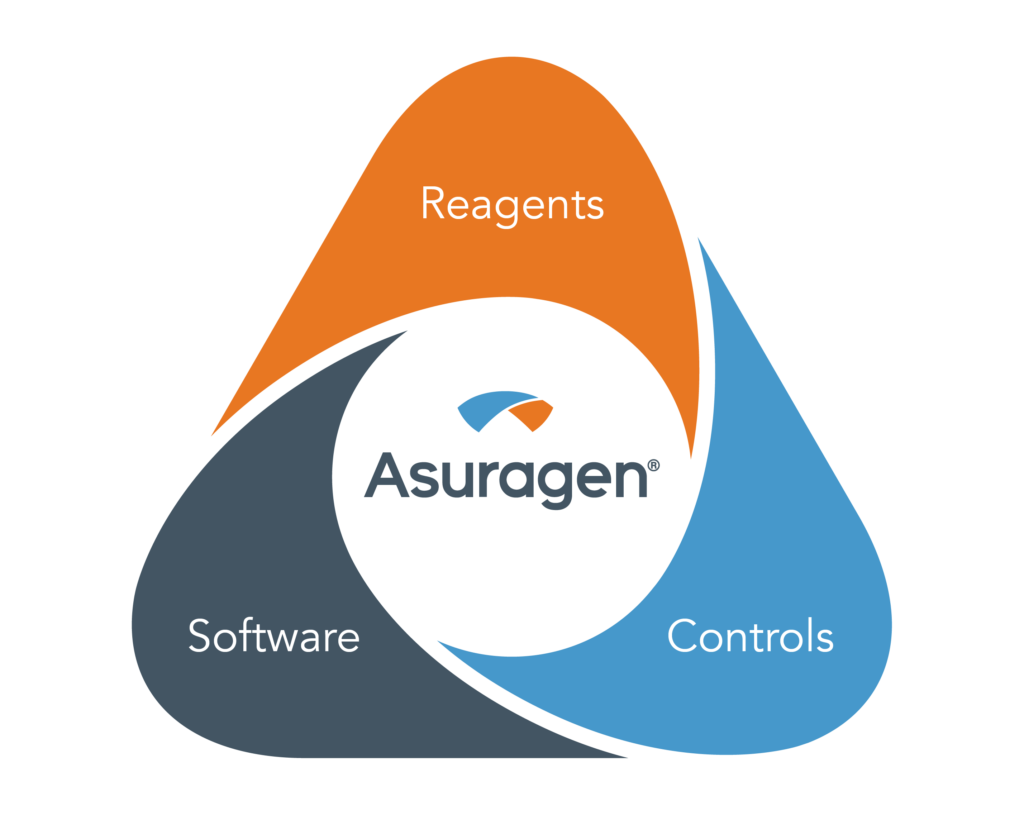 REAGENTS
Asuragen's kitted products feature high-quality, pre-mixed reagents, reducing the amount of preparatory work required for the laboratory end-user.  Our reagents have long-term stability to accommodate the needs of laboratories of all sizes and test volumes.
CONTROLS
Asuragen provides high quality, custom molecular controls by leveraging a combination of and manufacturing expertise. Our Armored Controls have been utilized in IVD-approved assays for more than 20 years and continue to serve as an important tool in the rapidly evolving space of molecular diagnostics.
SOFTWARE
To simplify and streamline the reporting process, our push-button Reporter software removes the need for any manual calculations, all while incorporating valuable QC checkpoints to ensure the results delivered are accurate and reliable.
Partnership with Wave Life Sciences
Asuragen recently entered a partnership with Wave Life Sciences for the development and commercialization of companion diagnostics for Wave's investigational allele-selective therapeutic programs targeting Huntington's disease (HD). Read our press release to learn more about this exciting collaboration:  https://asuragen.com/HD-CDx
One-on-One with Bernard Andruss, SVP Operations & Regulatory Affairs
Asuragen's Dr. Bernard Andruss discusses this landmark CDx program, what it means for the broader Huntington's community, and how it represents Asuragen's commitment to advancing precision medicine in much-needed disease areas like HD.
Connect with Us
Are you looking for a nimble, experienced, and one-stop companion diagnostic partner to power your therapeutic program?  Please visit the link below to submit your information and a representative will be in touch shortly.