Asuragen's unique and proprietary AmplideX® chemistries power simple and streamlined solutions for the analysis of complex genomic targets. Visit our booth at the 2019 American Society of Human Genetics (ASHG) Annual Meeting to learn more about our rapidly expanding pipeline of products, including the AmplideX PCR/CE SMN1/2 Plus Kit**, which provides additional information beyond just SMN1 and SMN2 copy number in under four hours.
VISIT US AT BOOTH #518
Click HERE for a map of the ASHG 2019 Exhibition Hall to find our location.
---
SCIENTIFIC POSTERS FEATURING AMPLIDEX TECHNOLOGY
Poster 1477T
A deep learning framework for interpreting repetitive DNA sequence in heritable disease
Presenting Author: J. Larson, PhD (Asuragen)
Section: Bioinformatics and Computational Approaches
Date: Oct 17, 2-3PM
Poster 2488T
FMR1 methylation and sizing PCR assays improve sensitivity and efficiency in clinical testing for fragile X syndrome, revealing some uncommon and unexpected results.
Presenting Author: J.A. Lee, PhD (Greenwood Genetics Center)
Section: Molecular and Cytogenetic Diagnostics
Date: Oct. 17, 3-4PM
Poster 2564F
Clinical validation and implementation of a highly efficient and sensitive dual molecular diagnostic assay for myotonic dystrophy type 1.
Presenting Author: J. Alaimo, PhD (Kansas City Children's Mercy Hospital)
Section: Molecular and Cytogenetic Diagnostics
Date: Oct 18, 1-3pm
---
CUSTOMER RECEPTION
Asuragen will be hosting a Customer Appreciation Reception. Please join us Thursday, October 17 for hors d'oeuvres and drinks.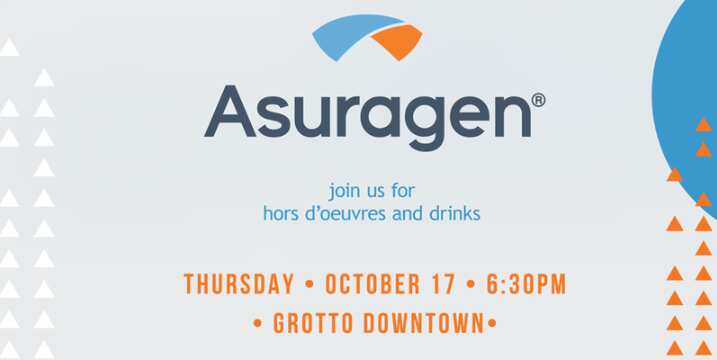 OTHER RESOURCES
Discover how our current portfolio of AmplideX solutions can empower your research and enhance your testing capabilities:
AmplideX® PCR/CE FMR1 Reagents*
AmplideX® mPCR FMR1*
AmplideX® PCR/CE C9orf72 Kit*
AmplideX® PCR/CE DMPK Kit*
AmplideX® PCR/CE SMN1/2 Kit*
AmplideX®PCR/CE HTT Kit*


*For Research Use Only. Not for use in diagnostic procedures.
** Product in development. Specifications not finalized.