Accurate C9orf72 Analysis Just Got Easier
The AmplideX PCR/CE C9orf72 Kit (RUO) is a research tool for the reliable amplification of pathogenic hexanucleotide repeats (GGGGCC) in the C9orf72 gene that are associated with amyotrophic lateral sclerosis (ALS) and frontotemporal dementia (FTD). Using our proprietary GC-rich PCR chemistry and building on the success of our FMR1 product, this kit provides a simple, single-tube PCR workflow to profile repeat sequences in the C9orf72 gene.
---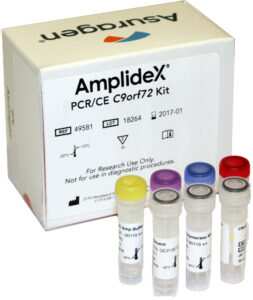 Reduced Complexity
Single source for all PCR reagents
Reduced hands-on time
Optimized Workflow

Single PCR reaction for both sizing and screening
Streamlined workflow combining gene-specific and repeat-primed PCR in one tube
Quality Performance
Improved allele sizing by 5-fold: quantify up to 145 repeats
Detect alleles with >145 repeats
Reveal low-level mosaicism and minor alleles
*For Research Use Only. Not for use in diagnostic procedures.
---
Please fill out the form below to request more information.