Employee Spotlight: Deepa Eveleigh
Deepa Eveleigh
Director, Lab Operations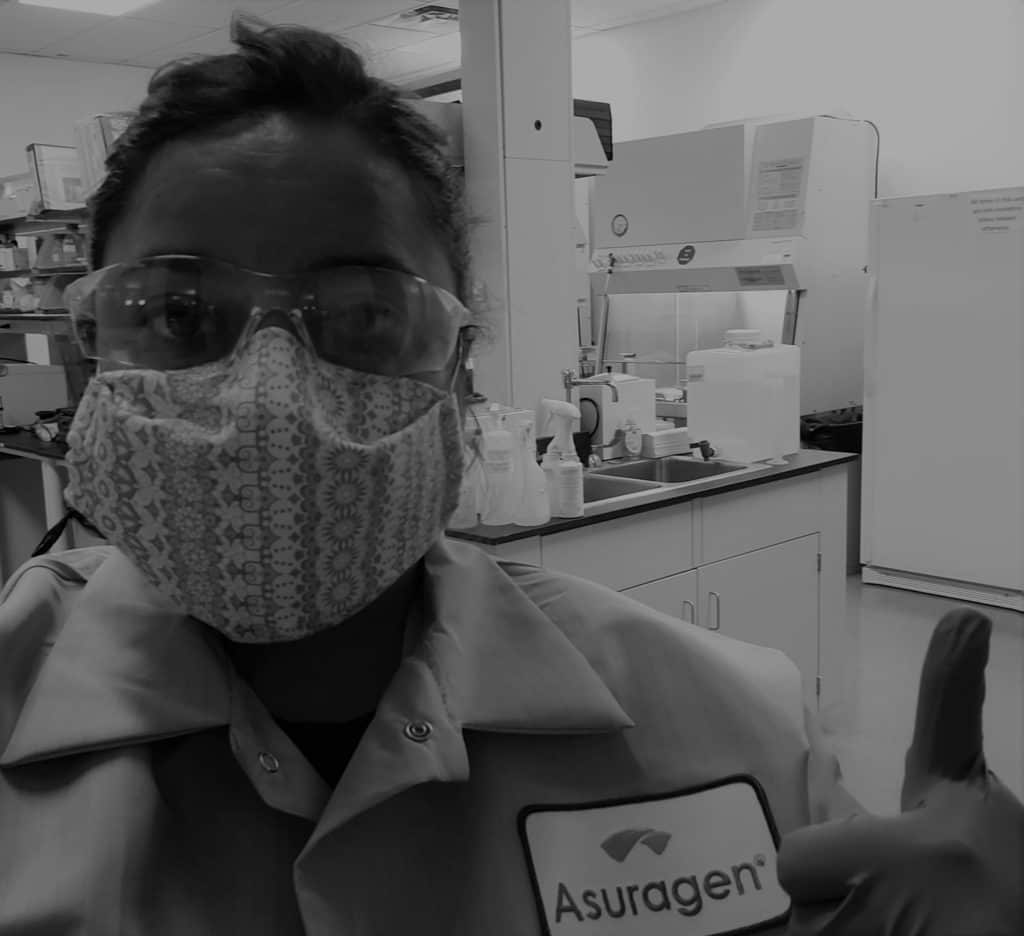 Curious | Careful | Dependable
---
Tell us a little about yourself: (where you grew up, previous role/training, what you like to do for fun, etc.)
I was born in India and moved to suburban Detroit when I was 2. I consider myself a Midwesterner still since I spent my formative years there. My background is in Molecular Biology and have had different roles from basic research laboratories through pharma drug development. I moved to Austin for three reasons: the food – I'm a foodie and love trying out new restaurants, the weather – I love the heat…the hotter the better, and the live music – so much talent here or showcased at festivals. I've also become a craft beer and wine aficionado.
How did you first learn about Asuragen?
I've been with Asuragen since its inception (I lost the competition to name the newly formed business). The rich scientific history and incredible potential of new directions its predecessor, Ambion, was taking drew me to the company.
If you could switch your job with anyone else within the company, whose job would you want?
It would be incredibly presumptuous of me to think I could step into anyone else's shoes at this company. I know my knowledge and skill limitation. That said, if it ever were to happen, I would do whatever it took to learn to be effective, whether that be marketing, software, or Director of First Impressions.
What is your role at Asuragen?
I started out in our Testing Services department where I was able to work with a lot of new cutting-edge platforms and technologies at the time and then oversaw our Quality Control group for our kitted diagnostics products for a brief while.  I'm currently the Director of Laboratory Operations overseeing our CLIA laboratory, which runs testing for refinement of risk of Fragile X transmission and our Custom Manufacturing Team responsible for production of our Armored RNA product line, including our new SARS-CoV-2 Control.
What do you like most about working here?
The team environment fosters a spirit of collaboration and comradery. I'm most proud of the teams I've helped build here over the years.
If you could learn to do anything, what would it be?
Computerized animation or 3D modeling. It fascinates me how one can bring a concept on paper to life to be able to illustrate exact molecular mechanisms.
What's the most exciting thing you have going on in 2020? (Career and/or personal)
Navigating new product development, continual clinical testing, and homeschooling our 4th grade twins all at the same time during this pandemic has been challenging and exciting. The impact we are able to make remotely is amazing, particularly with expanding our Armored RNA portfolio to help facilitate reliable testing for Coronavirus.
What is the one thing you can't live without?
Queso. Definitely queso. Wait, no, my kids… hard to choose, really.
What is your favorite place you've traveled to and why?
Agra, India. Seeing the Taj Mahal in person literally took my breath away. The massive 17th century monument immortalized the love the emperor had for his wife like none I've ever seen.
Q&A with Deepa:
If you could have lunch with anyone, who would it be and why (alive or dead)? Judy Blume. Her work was so inspirational when I was growing up, I would chat with her about how to better communicate with my daughters.
If you could see any musician in their prime, who would it be and why? David Bowie. His music was experimental and creative and spanned so many genres. He never stopped being his own person. I'm sure a live show would have been mind-blowing.
Best celebrity sighting. Where? Jerry Seinfeld. We were at a basement comedy club in NYC in 1999 and he unexpectedly came on stage to test some new material out. There were only 10 people there and we were in the front row. He did a whole Q&A and shook our hands after.
If you had your own talk show, who would your first three guests be and why? My talk show would likely center on influential women and their impact on me and society. I would host Ruth Bader Ginsberg, Michelle Obama, and Malala Yousafzai.
What song best describes your life? Why? You Gotta Be by Des'Ree.  Her lyrics made an impression on me when I was younger. I learned to, "challenge what the future holds…stand up and be counted…try to solve the puzzles in [my] own time…. Be bold, hard, wiser, stronger, calm, cool, and stay together," in order to keep moving forward and allowing my voice to be heard.