Employee Spotlight: Steven Partin
Steven Partin
Production Scientist I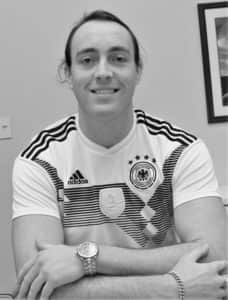 Ambitious | Persevering | Strong-Willed

Tell us a little about yourself: (where you grew up, what you like to do for fun, etc.)
I was born in Germany and moved to Buda, TX when I was 3. I am fluent in German and still have family in the Frankfurt area.  Growing up, I played football in high school and continue to be an avid fan, particularly of UT.  I also have a passion for cars or anything with a motor that can go fast. My grandpa is a big F1 racing fan, and I love that Austin now has a race track. I often watch racing and love smaller races where they let you in the pit to check out the cars up close.
I've been practicing Karate for 20 years and have recently begun training in Mixed Martial Arts. I'm a Junior Master, 4th degree black belt in Tae Kwan Doe
What is your role at Asuragen?
I'm a Production Scientist in the manufacturing group.  Most of my time is spent in upstream formulation of kitted products and inspecting raw materials (QC).  Our team is also responsible for downstream packaging and labeling.
What do you like most about working here?
The people and the culture. Everyone is so approachable. This is my first role at a biotech company, and I've had the opportunity to get hands on experience with both PCR and NGS techniques. I love the direction Asuragen is headed in and I'm even more convinced that this is the industry I want to work in long-term.
Three short-answer questions… Go!
What's one exciting thing you have planned for 2020?:
I am competing in my first Mixed Martial Arts tournament in Chicago.
If you could see any musician in their prime, who would it be?
Stevie Ray Vaughn at ACL in 1983
If you can instantly become an expert in something, what would it be?
CRISPR gene editing