Asuragen has helped transform how challenging genetic sequences can be analyzed, providing simple-to-use and easy-to-implement testing solutions that provide helpful answers in hours – not days or weeks.  From quantifying repeat expansions in FMR1, to determining copy number in SMN1 and SMN2, to multiplexed detection of SNVs and other structural variants in CFTR, our foundational AmplideX PCR technology is unmatched in its simplicity, versatility, and robustness.
In addition to showcasing our rapidly growing portfolio of AmplideX testing kits this year, we are also excited to share our pioneering work to simplify and streamline the analysis of challenging genes central to carrier screening.  View Scientific Poster [2021-A-2261-ASHG] to see how the combined forces of Asuragen chemistry and Oxford Nanopore long-read sequencing technology provide a single workflow to detect complex structural variants in genes including FMR1, F8, CYP21A2, HBA1/2, GBA and SMN1.
Visit us – virtually! – at ASHG 2021 to learn more about Asuragen's new and upcoming products, as well as all of our latest developments in human genetics.
Scientific Poster
A Single-Assay Solution for Expanded Carrier Screening Relieves Existing Workflow Constraints and Provides More Comprehensive Analysis
Sarah Statt, Jon Kemppainen, Melissa Church, Cody Edwards, Jonathan Turner, Justin Janovsky, Stela Filipovic-Sadic, Julie R Thibert, Bradley Hall, Liangjing Chen, Theodore Markulin, James Hernandez, Jacob Wisotsky, Brian C Haynes, and Gary J Latham
PrgmNr 3543
Poster Presentations – Poster Session D: 3:30pm- 4:30pm EDT
Videos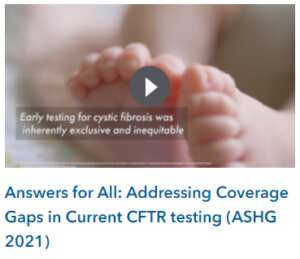 Cystic fibrosis screening tests should provide reliable answers for all people, but there are concerning gaps in CFTR coverage.  We're working to resolve this to ensure broad CFTR testing coverage for all.
AmplideX® Testing Kits
Please click on the links below to learn more about our AmplideX family of products for the detection of challenging genomic variants.
AmplideX Fragile X Dx & Carrier Screen Kit
AmplideX PCR/CE FMR1 Reagents
AmplideX mPCR FMR1
AmplideX FMR1 Controls
AmplideX PCR/CE C9orf72 Kit
AmplideX PCR/CE DMPK Kit
AmplideX PCR/CE SMN1/2 Plus Kit
AmplideX PCR/CE HTT Kit
AmplideX PCR/CE CFTR Kit